11 Latana alternatives for better brand analytics
It's not just what you measure, it's also how.
Latana is a smart survey solution with mobile-first micro surveys, but in some use cases, micro might not be enough. If you're looking for better brand analytics, you're in luck!
This is our list of Latana alternatives. With these tools, you'll be able to track your brand's progress and improve your marketing strategy with more in-depth data. Here's a summary of the list:
Typeform
Qualtrics CustomerXM
Pollfish
SurveyMonkey
Suzy
Zoho Survey
SurveySparrow
InMoment
Medallia Customer Experience
GetFeedback
Why look for a Latana alternative?
It sounds great in today's busy world: micro-surveys for brand tracking delivered to people's smartphones. That's how Latana collects data.
And while running a quick, mini-survey is great, it rarely lets you get to the bottom of things: and that might be something you're looking for when collecting data on your brand. If you're in need of more versatile market research tools, it might be time to look elsewhere.
If you need more than micro
Micro-surveys call for very carefully formulated questions, because you only get a few of them. While it's always important to choose your words carefully when making a survey, it can be tempting to put two questions in one for micro surveys. This could confuse respondents and make answers less accurate than you'd like them to be.
Micro surveys also don't allow for a lot of context and following up can be tricky with the system that Latana uses: you don't want to be sending people daily micro-surveys—that kind of beats the purpose.
If you want to avoid using multiple tools
Unfortunately, Latana does not offer any additional survey methods, so if you want to dive deeper into a certain topic around your brand or other areas of research, you will need to find an additional solution.
If you do this, you'll have to learn how to use more tools, have data stored in different places and that you will also be paying for at least two solutions. If you'd prefer to avoid this, you'd want to look for a solution that offers you the possibility to send out a range of surveys of different lengths. That way, you can always send out micro surveys if it works for you, but you can also follow up with more in-depth studies, all from the same platform. This will also make analyzing the data a lot easier, because it's all in one dashboard.
If you want an attentive audience
Another reason you might not be over the moon when it comes to Latana's mobile-first surveys, is that you'd want to reach people on different devices. People answering surveys on their phone can sometimes be distracted, or don't want to put a lot of thought into it and get back to doom scrolling on Twitter.
Someone who gets a survey delivered to their desktop or laptop, or chooses to open it on their phone deliberately, might be a lot more focused and engaged with the survey, which will positively impact the quality of their answers.
If you want a free trial or simple pricing
Lastly, pricing could also be a reason to pick something else than Latana. The tool doesn't offer a free trial on its website, nor does it mention a price on it's pricing page. You can fill in a form for a custom price.
If you're looking for more straightforward pricing, or simply want to try a tool before committing to it, let's look at some of the alternatives we've gathered for you.
11 Best Latana alternatives for brand tracking and analytics
Key Features:
Get reliable insights about your brand
Make the right decisions for your brand with reliable consumer insights from Attest
Get your copy now!
Pricing: it starts at $25,000 for 50,000 responses, which includes a designated research expert to support your needs. Your first survey is on us!
If you're looking for reliable insights into your brand, consumers and market, Attest is the perfect tool for you.
With our combination of research expertise and user-friendly interface, we're trusted by marketers and insights professionals alike. You can conduct market research just how you like it, combining quantitative research and qualitative research technology.
You'll get your very own Customer Research Manager to guide you through your research and we supply you with all types of templates, like a brand tracker template that you can make your own.
How we differ from Latana is not just the length of your survey. We also give you access to a more comprehensive range of research, from small pulse check surveys to Net Promoter Score (NPS) surveys and large-scale recurring brand tracking studies.
And our tool is designed to quickly and easily identify instances of bias in questions and answers, as well as provide guidance on how to correct them. It's perfect for brand tracking over-time, and right after campaigns have been launched to check the impact on your brand building work.
As for pricing, we've kept it simple too: you pay per response. No matter how specific you want to get with your target demographic, Attest has got you covered. From age and location to information like household income and employment sector, Attest provides reliable consumer insights at manageable prices.
What's your brand awareness?
Run brand tracking with Attest to stay on top of any dangerous change
Get your copy now!
2. Typeform
Key Features:
Ready-to-use survey templates for small and long surveys
Excellent survey design capabilities
Survey translation into 24 languages
Pricing: Starts at $30 per month for their basic plan
Typeform is a modern market research tool like no other. This survey tool revolves around the idea of having conversations with your audience. Respondents only see one question at the time, and the wording is often much more conversational than you're used to from your standard survey tools. This boosts engagement and improves data quality, especially for qualitative data.
Typeform lets you use templates, or you make your own survey. You can create quick surveys and embed them into your website, or make longer ones that you distribute any way you like. It supports extensive branding customization, so you stay on brand while getting actionable insights.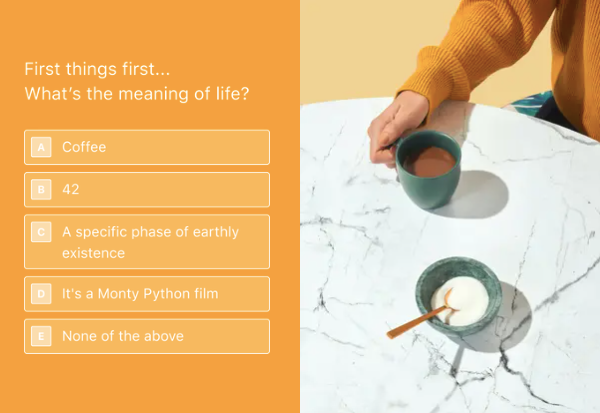 3. Qualtrics CustomerXM
Key Features:
Advanced analytical tools with survey distribution on many channels
ExpertReview automatically analyzes every question and recommends improvements
Follow up with customers easily with built-in closed-loop follow-up
Pricing: Plans start at $1,500 a year and go up to $5,000 a year based on what features you have
When it comes to comprehensive audience research tools Qualtrics is a popular choice. It has advanced reporting and analytics tools and makes market research surveys easy.
If mobile-only is not enough for you, check out Qualtrics CustomerXM. This survey tool lets you collect customer feedback through email, chatbots and messaging apps, text or SMS, mobile, native apps and even offline apps.
The Qualtrics tool come with other capabilities, so if you're looking for a more all-in-one solution compared to Latana, this could be a great choice for you. Also check out our recommendations for Qualtrics alternative tools!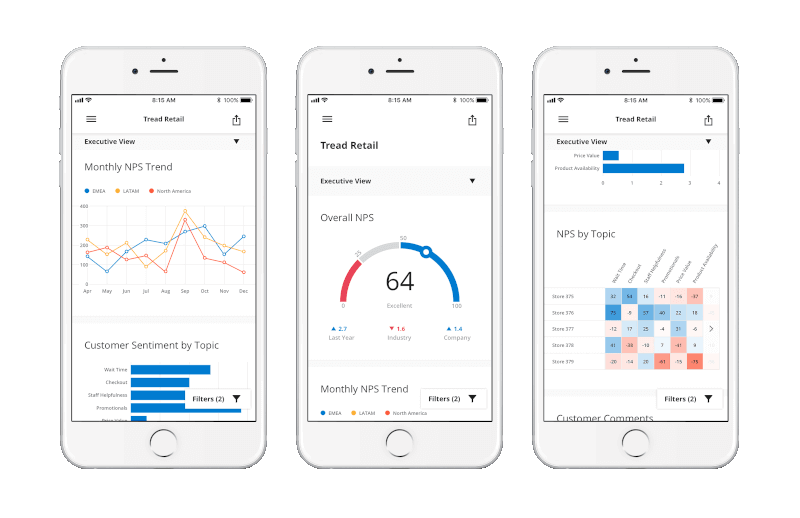 4. Pollfish
Key Features:
Conduct insightful surveys based on their templates
Track brand performance through mobile/phone surveys
Supports audio, video, and images in surveys
Pricing: Starts at $95 per month
Pollfish is similar to Latana in that it presents respondents with short surveys on their mobile devices. It is perfect if you are looking for fast results, but this quick turnaround time can result in low-quality data.
Pollfish respondents see the surveys when they're using their phone—like reading an article, watching a movie or playing mobile games. If gamers or movie-lovers are part of your target audience, this is fine, but you might want to reach other people, or don't want to risk getting 'false' answers to your survey just because people want to get back to their activity.
The plus side compared to Latana is that the pricing is a lot more straightforward for some cost-effective market research. If you're not convinced yet, find out if there's a Pollfish alternative for you on this list.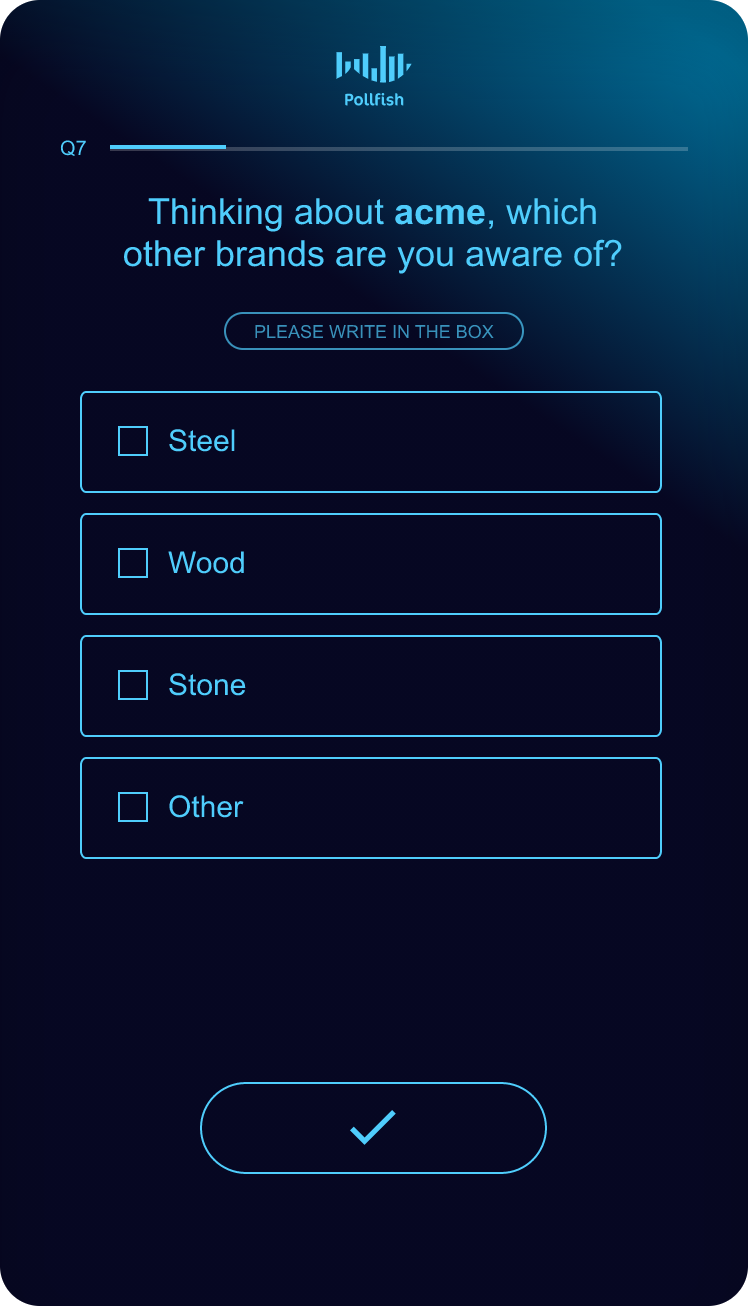 5. SurveyMonkey
Key Features:
Creating surveys is fast and easy
You can customize the way your surveys look
With feedback analysis you get more out of your data
Pricing: Starts at $73 per month
Just as easy to use as Latana, but with a lot more options for creating and distributing your study is Survey Monkey. This popular tool is great for researchers with any level of experience: you can dig deep or launch quick and easy surveys.
One downside? SurveyMonkey includes their own branding on every survey you send, which some users find annoying especially since it isn't a free tool. If that would bother you too, then check out these SurveyMonkey Alternatives.
6. Suzy
Key Features:
Qualitative research to US consumers only
Respondents are incentivized with points for answering questions
Simple, straightforward designs
Pricing: It's hard to tell! Suzy provides further information on their pricing page.
Suzy can be a great alternative to Latana if you are looking for a tool that offers more research possibilities.
One of the benefits is that the pricing is more straightforward: Suzy has a subscription-based pricing model. You also won't need multiple tools, so for simplicity it's great.
However, if the Latana audience sourcing, only through mobile, is a reason for you to switch, Suzy might not be the one. Suzy works with its own panel of US consumers, which has 50k active monthly verified respondents. There's a risk however that a single source panel is not broad enough. Moreover, respondents for Suzy get incentivized with points that they can use to redeem gift cards and the likes, which could affect the quality of their answers, if they're just looking to redeem as many possible points, or that they get hit by panel fatigue.
But Suzy does offer more diverse survey options than Latana does, so it might work out for your business after all. If you are keen to learn more, have a look at our article on Suzy Alternatives.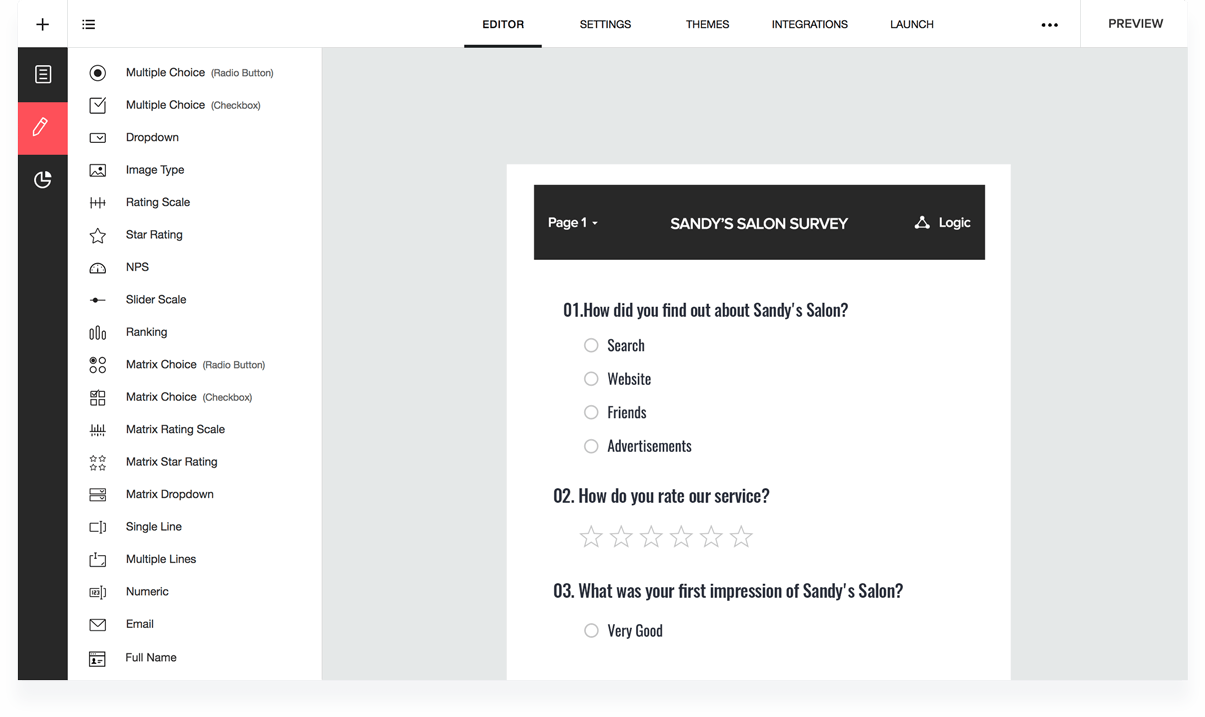 7. Zoho Survey
Key Features:
Easy-to-use survey builder
Choose from their customizable survey templates
Integrates with Zoho CRM
Pricing: there's a free plan available, and after that plans start at $25 per month
Zoho Survey is a great tool for businesses that are looking for an easy-to-use survey builder with both qualitative and quantitative research methods. With Zoho Survey, you can choose from their customizable templates, or you can create your own surveys from scratch. Additionally, Zoho Survey integrates with Zoho CRM, which allows you to collect and track customer feedback data.
It's simple, but strong! If Latana's mobile-first surveys are what's holding you back, Zoho is a great step up. With Zoho Survey you can send your surveys to anyone with a link, so you're not limited to the audience Latana picked for you.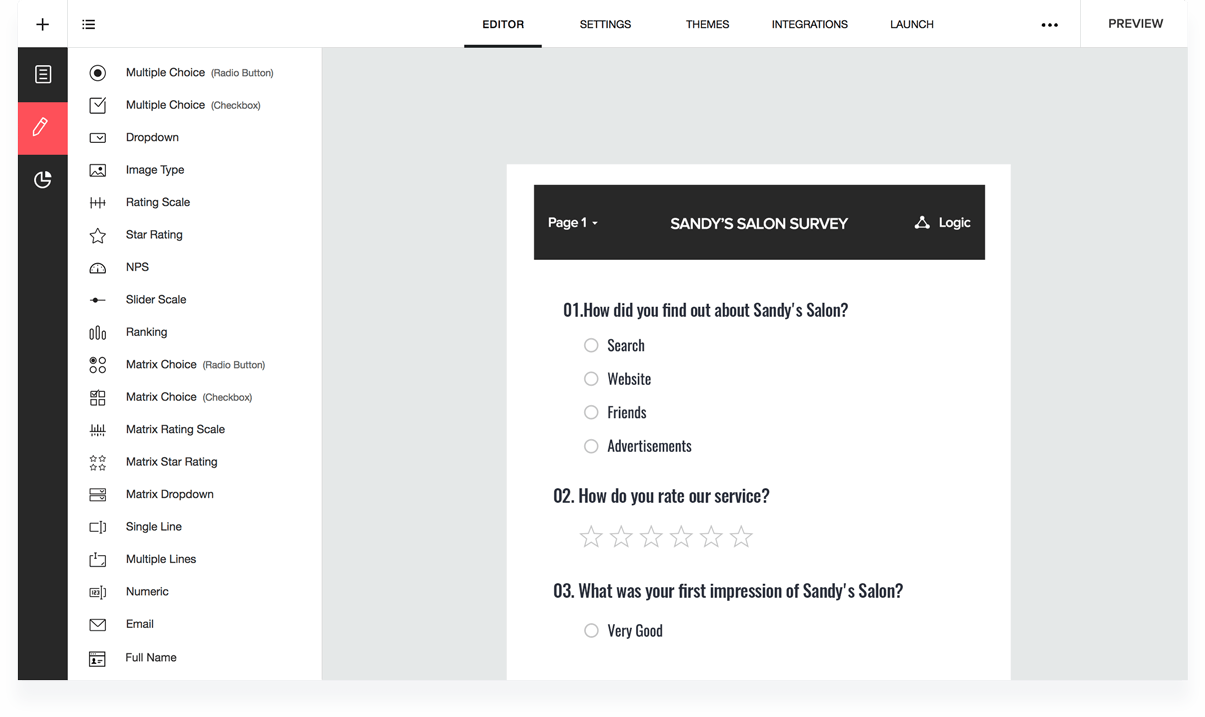 8. SurveySparrow
Key Features:
Platform is fully optimized for mobile devices
NPS surveys
Offline surveys
Pricing: Paid plans start at $30 per month
SurveySparrow provides NPS and offline surveys, plus some innovative features like being able to record respondent audio. Its UI is designed to feel more personal, like a chat interface.
This means you can't collect extremely detailed insights, but it is great for simple customer satisfaction surveys.
Unfortunately, there's a lack of customization options, but if you're just looking for a simple survey solution that is cheaper than Latana, this one might be a winner.
9. InMoment (formerly Wootric)
Key Features:
AI-powered text analytics
Combine survey data and Data management
Employee feedback surveys
Pricing: Available on request
InMoment provides a cloud-based software solution that makes feedback analysis simple. With employee and consumer data modeling capabilities, InMoment allows you to understand the most significant drivers of business results for employees and consumers.
Although the platform does have some limitations, users can still send CSAT, CES, and NPS surveys with a little bit of room for customization. If you're not satisfied with how a question is worded, you unfortunately can't change it. Additionally, users are only able to run one survey type at once—so if you want more data from multiple surveys, this might not be the best option.
10. Medallia Customer Experience
Key Features:
Perfect for larger companies looking for critical strategic insights
Smart functions that use AI and machine learning can identify emerging trends
Email, social media, in-app and website analysis
Pricing: Available on request
Medallia is an effective online survey software that captures attention, motivates users to action, and analyzes the resulting data. The platform includes non-survey features such as email analysis, social media analysis, web analysis and in-app analysis. The software uses artificial intelligence (AI) and machine learning to collate this information into actionable data.
Though Medallia is excellent in many ways, some users have found that its lack of bespoke survey capacities may not provide value to businesses working on their brand awareness.
Some mention that they have problems with Medallia's so-called "smart" capabilities—for example, one user said the software might label average reviews as negative, which could base its data on false information.
11. GetFeedback
Key Features:
Intuitive (but basic) interface
Ready-made survey templates
Salesforce integration
Pricing: Around $50 per month for a single user on their professional package)
GetFeedback allows you to gather customer feedback from multiple channels and create insightful reports based on that data.
It's a decent platform that allows you to ask questions and receive answers to measure brand health. Additionally, pre-built survey templates make it easy and speedy to collect customer feedback via CSAT, CES, and NPS surveys.
In comparison to other alternatives, this tool is not as good for gaining specific insights or reaching niche audiences. The primary complaint users have is that the platform is too simplistic and doesn't offer enough options for deeper consumer analytics, so if you want to conduct research on a more detailed lever, skip this one.
How to choose the right Latana alternative
Choosing the right brand tracking tools is an important process. Latana might not have the flexible platform features you're looking for to measure brand awareness, or ask more than one market research question.
We would always recommend trying a free trial if it's available for an insights platform you're interested in, even if it's just to familiarize yourself with the workflow of a tool and the look and feel of a dashboard.
At Attest, we want you to get the most out of your research as possible. Whether you're new to research or a seasoned expert, our tools help you dig as deep as you need with an easy interface, and you won't require any training. Plus, you'll always have a customer research expert on stand-by for any doubts.
We'd love to show you around in our tool. Yo can book a no-strings-attached demo here with our research-loving customer support team and ask all your questions.
FAQ
1. What is brand analysis software?
Brand analysis software is a tool that helps you understand how people feel about your company and its products or services. This is often done with surveys, or other research tools social listening platforms.
2. What is the best Latana alternative?
Attest is a great alternative for Latana. It allows you to send more in-depth surveys to a reliable audience of global consumers. With Attest, you can customize your survey and reach people on all types of devices.
3. How can Attest help track my brand?
Attest offers a broad variety of brand tracking surveys. We're here to help you put your brand health first. Use any of our ready-made templates or customize your own survey to find out how people feel about your brand.
Make smarter decisions with reliable brand insights
With consumer insights from Attest you can make smarter decisions about your brand—get reliable insights and designated research expertise with Attest
Make smarter brand decisions