11 top Qualtrics alternatives and competitors for marketers
Attest is a Qualtrics alternative for people who want an easier to use survey solution. See how we stack up against Qualtrics.
If you're looking to improve your consumer insights by using a better tool, you're in the right place. In this article, we'll give you an overview of the top 11 Qualtrics competitors and alternatives you should consider, along with key details like pricing, features, and more. We make it easy for you to compare platforms and make an informed decision.
Whether you're a professional marketer or a market research newbie, you should be using at least one of the Qualtrics alternatives on this list:
But before we give you the details, let's answer one important question:
Why look for a Qualtrics alternative to collect customer feedback?
Qualtrics is versatile, customizable, and generally highly-rated. However, it is not without flaws. These are just a few of the reasons users are choosing alternative platforms for their online surveys and customer feedback data collection.
Poor user experience
If you want to get the most out of your paid Qualtrics subscription, you'll need to dedicate time and resources to training. It seems that Qualtrics is fine for those just looking to create surveys, but interpreting results using their data analysis tools can be a challenging task.
One reviewer cited that their "survey science terminology is not unpacked for users"—a sentiment echoed by many confused users having difficulty sorting through their customer feedback data.
High pricing
Let's explain Qualtrics' pricing method: you'll pay varying amounts according to who you're targeting, with more charged for niche, hard-to-reach audiences. You'll also pay more depending on how many people in your team want access to the platform. Standalone software products are priced separately.
A major selling point of Qualtrics is the sheer amount of features they offer — but this comes with an equally steep price tag that doesn't cover the training costs and other resources it will take to learn how to use each feature to the fullest. For some users, the price tag does not equal the value they receive from Qualtrics.
Other shortcomings
A few users have mentioned other problems with the platform that really add up over time, contributing to negative user experiences:
Surveys are not visually customizable
Poor customer service
Bot and fraud detection is not available for all plans, so your survey data quality may be easily compromised unless you upgrade to a higher-paid plan.
Need for experts—with Qualtrics, you'll likely need a project manager and expert input before you can understand your data.
Qualtrics competitors compared
11 Best Qualtrics alternatives to consider
Attest is an online survey platform designed with accessibility in mind– meaning you don't need to be a market research expert to get full value from the software. Professional marketers and team members can gain valuable insights in days, not weeks or months—with no training required!
Attest is designed for ambitious brands, helping them to grow without guesswork. Combining impressive research capabilities with an intuitive user interface, Attest can be used by both insights professionals and marketers.
Key Features:
Audience segmentation
Ready-to-go survey templates
Audience of 125 million in 58 countries
Use Cases:
User insights
Consumer profiling
Brand tracking
Market analysis
New product development
Creative testing
Pricing
Get started for free and see our Pricing for full packages.
Attest is super simple and intuitive to use and a super-fast way of getting the insights that you need to make key business decisions.

Liz Yates, Head of Growth at Oddbox
What do users like about Attest?
Attest has many features in place that add value to the platform, such as:
Personalized onboarding and around-the-clock customer support — free of charge for you and your team.
An easy-to-use and customizable survey builder — complete with ready-made survey templates you can customize according to your brand.
A dedicated Customer Success Manager — this is a real market research expert who acts as a consistent point of contact and assistance. You'll receive bespoke onboarding, training and support from the Attest Customer Research team, and won't ever be kept waiting for vital consumer insights.
Quality assurance features — the platform intelligently spots when questions and answers are likely to introduce bias, and provides guidance on how to correct it.
Real-time survey responses — slice and dice your results using demographic filters or use Attest's automated insights feature to export your data to your preferred software.
Diverse survey panels — diversity improves both reach and respondent quality, which allows you to access a wide range of views from a multitude of sources.
Insights from niche target audiences — Attest's selection of demographics ranges from basics like age and location, through to things like household income, employment sector and pet ownership. The price per response stays the same, regardless of how granular you wish to go with your targeting.
Get consumer insights in hours
Send surveys to a global audience of 125 million and get quality insights from your target demographics—fast!
Schedule a demo
The research we've done with Attest has really enabled us to make data-driven decisions and it's helped us to think long term.

Lorna Phillips, Audience Insight Manager at Gymshark
2. Typeform
Key Features:
Ready-to-go survey templates
Good survey design capabilities
Survey translation into 24 languages
Pricing:
Starts at $30 per month for their basic plan
Pros
If you're looking for an online survey tool that lets you build interactive, conversational forms and surveys, Typeform is certainly a popular option. Survey creation is easy, and users report good survey engagement with Typeform.
Cons
However, Typeform doesn't have the same depth of analytics and integrations you get from a tool like Qualtrics, which leaves some users disappointed.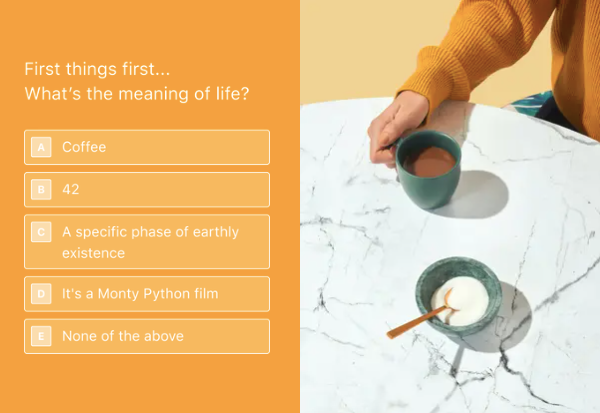 3. SurveySparrow
Key Features:
Platform is fully optimized for mobile devices
NPS surveys
Offline surveys
Lead generation (via online forms)
Pricing:
Paid plans start at $30 per month
Pros
Many are turning to SurveySparrow for their customer experience management needs. The platform offers NPS and offline surveys, as well as some truly unique features like the option to record respondent audio. Their UI is less like traditional customer survey tools, and more like a personal chat.
Cons
Onboarding is one major complaint users have about SurveySparrow — it can take a bit of time and patience to get your team fully up and running on the platform, and that's time you could spend getting valuable insights from an alternative. A lack of customization options also turns away some users.
4. Alchemer (formerly SurveyGizmo)
Key Features:
360 degree feedback
Survey templates
Detailed reports
Pricing:
Starts at $49 per month
Pros
Alchemer offers easy setup and implementation, with many users citing a great experience on the platform. While Alchemer does offer ready-to-go survey templates, these are easy to tailor to your brand. If you're conducting market research for a startup, Alchemer is a good option.
Cons
While a popular solution, many users find the platform to be costly compared to other Qualtrics competitors.
5. SurveyMonkey
Key Features:
Fast survey creation
Customizable surveys
Feedback analysis
Pricing:
Starts at $73 per month
Pros
A well-known alternative to Qualtrics, what do users like about SurveyMonkey? Ease of use is a major factor. Marketers and novices alike can easily set themselves up on SurveyMonkey and quickly create and send out surveys. With more than 100 pre-built integrations, it's easy to see why so many users see real value in SurveyMonkey as an all-in-one market analysis tool.
Cons
SurveyMonkey includes their own branding on every survey you send, which some users find unprofessional, considering their large price tag when compared with other Qualtrics alternatives.
6. Pollfish
Key Features:
Survey templates
Mobile/phone surveys
Supports audio, video, and images in surveys
Pricing:
Starts at $95 per month
Pros
Pollfish puts mobile users at the center of their survey platform. Whether you're creating surveys for feedback management or customer journey mapping, you can bet Pollfish will allow you to hone in on mobile users as part of your data collection.
Cons
Pollfish is perfect for users who are looking for fast results, but this quick turnaround time can result in low quality data.
When you send a survey with Pollfish, it will reach respondents who are in the middle of something—for example an article, movie, or mobile game. If gamers or movie-lovers are part of your target audience, this is perfect. However, if you're looking for more robust survey data, you may want to look elsewhere.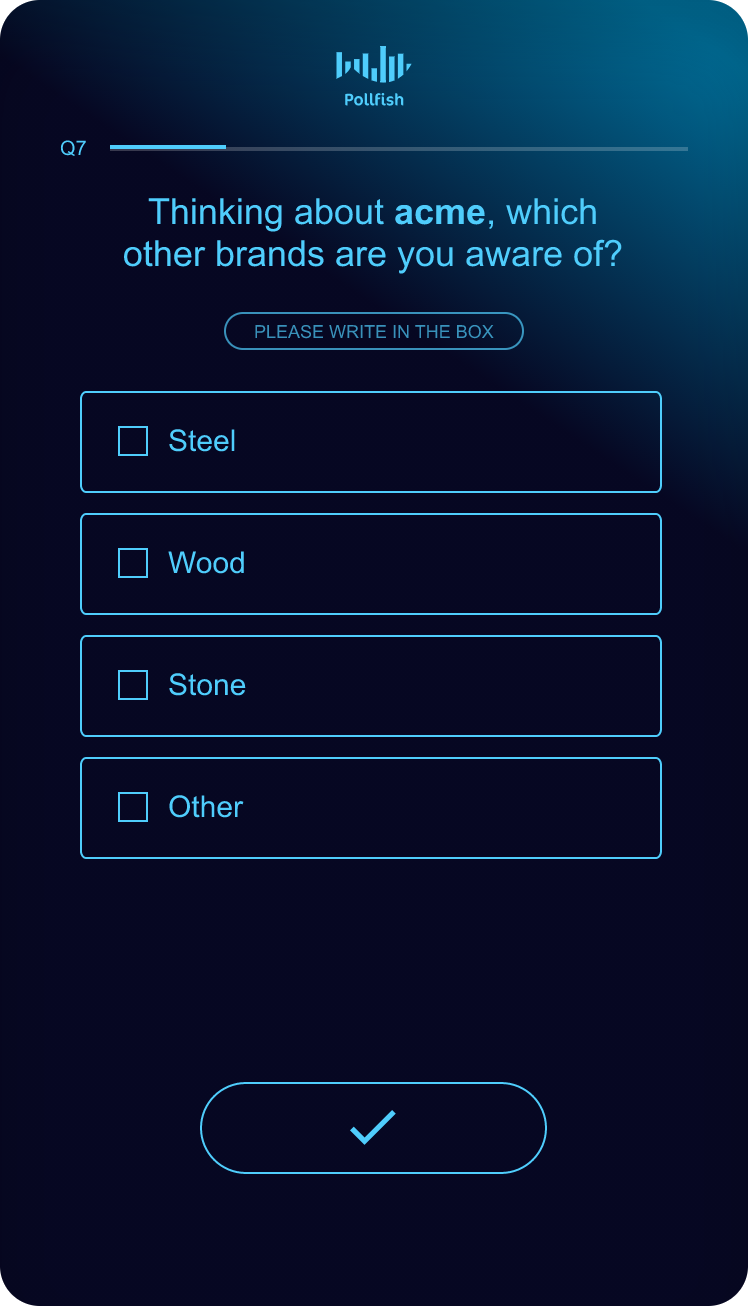 7. Birdeye
Key Features:
Brand management
Surveys that increase review volume
Custom survey types for teams
Pricing:
Starts at $299 per month
Pros
Looking to measure brand awareness and reputation? Birdeye helps businesses manage their online presence via surveys, campaigns, and paid reviews. Their customer experience insights are powered by many different features, and custom survey types.
Cons
Unfortunately, users still describe similar issues to Qualtrics. For example, they imply that the reporting capacities of the tool are limited and could be improved with the ability to pull word clouds or graphs directly from the data.
8. GetFeedback
Key Features:
Intuitive (but basic) interface
Ready-made survey templates
Salesforce integration
Pricing:
Available on request (around $50 per month for a single user on their professional package)
Pros
GetFeedback is a customer feedback platform that does what the name suggests: you can collect customer feedback across all channels and create reports that provide deeper insights into what customers want. It's a good (albeit basic) platform that allows you to ask questions and get answers.
Pre-built survey templates make it a quick and easy experience to collect customer insights such as a CSAT, CES, and NPS.
Cons
For more specific insights and niche audiences, however, the tool falls down in comparison to other alternatives to qualtrics. The major complaint amongst users is that the platform is too simple, with not enough opportunity for deeper consumer analytics.
9. Medallia Customer Experience
Key Features:
Suitable for larger companies
Smart functions that use AI and machine learning
Email, social media, in-app and website analysis
Pricing:
Available on request
Pros
Medallia is designed for effectiveness. The online survey software captures attention, motivates users to action, and analyzes the resulting data. The platform includes non-survey features that justify the high price tag (for larger enterprises who can afford it) such as email, social media, web and in-app analysis. The software uses artificial intelligence (AI) and machine learning to collate this information into actionable data.
Cons
So, what's not to love about Medallia? According to some users, there's a lack of bespoke survey capacities, which may not provide value to businesses working on their brand awareness.
Others cite issues with Medallia's 'smart' capabilities—for instance, one user implied the software will flag neutral reviews as negative, therefore skewing data.
10. InMoment (formerly Wootric)
Key Features:
AI-powered text analytics
Data management
Employee feedback surveys
Pricing:
Available on request
Pros
If you're looking for a cloud-based software solution, InMoment could be the answer you're looking for. With capabilities for employee and consumer data modeling, feedback analysis is simple enough with InMoment. The platform allows you to understand the most significant drivers of business results for both employees and consumers.
Cons
Unfortunately, the platform is not without limitations. Users can only send CSAT, CES, and NPS surveys, with limited room for customization. If a question's phrasing is too formal for your brand, you can't change it. Not only this, but users can only run one survey type at a time—so if you're looking to get a lot of survey data at once, you'll have to look elsewhere.
11. AskNicely
Key Features:
Real-time feedback
Reports feature makes sharing feedback simple
Customizable
Pricing:
Available upon request
Pros
Negative feedback management is tough—AskNicely understands this, and provides users with a popular solution to help understand customer experience with important feedback. The platform is quick to set up and makes sharing feedback with your team simple. So, you can analyze customer opinions and focus on particularly important issues quickly and in a coordinated manner.
Cons
The UI can initially confuse some users, but once fully onboarded AskNicely can start providing actionable insights.
Choose the best survey tool for your market research
If you want to get up and running quickly and start using consumer insights to make better decisions, Attest is the best Qualtrics alternative for you. Our platform is so intuitive that anyone on your team can get started building surveys right away – and we facilitate collaboration by offering unlimited users free of charge. The fixed cost you pay per response – regardless of who you're targeting – helps growing businesses to stay in control of their budget.
It couldn't be easier to register for a free account and start surveying your customers. And if you want to try out Attest's full capabilities, you can even trial our audience of consumers for free. We're confident once you try out the Attest product experience, you'll be convinced it's a great Qualtrics alternative.
When I think about Attest, I think about it as the best of all worlds. So you're getting the high quality data that you would get from any of the big monolithic research companies, but with a self service front-end that frankly allows you to manage costs more effectively.

Ross Farquhar, Marketing Director at Little Moons
Try the #1 Qualtrics alternative: Attest
From broad to super niche, you can make informed decisions based on quality insights data from your key markets—and all through Attest's intuitive platform.
Schedule a demo