Brand extensions: what are they and 13 inspiring examples
We asked consumers which brands they'd like to see launch brand extensions across 13 different categories. Here's how they voted.
Brand extensions have a mixed record.
Many are failures:
Cheetos lip balm
Colgate ready meals
Diesel wines
Zippo women's perfume
Virgin Brides
Others go on to be a massive successes:
The Michelin Guides
Guinness World Record Book
Virgin Airlines
Amazon Echo
Google Pixel
Snickers Ice Cream Bars
Despite the potential for failure, many household brand names continue to launch surprising new products and brand extensions, such as the KFC smartphone and even Netflix marijuana.
What is a brand extension?
A brand extension is when a brand develops a new product or service and offers it under their already established brand name.
By introducing new products under a familiar brand name, companies can stretch the boundaries of their offerings while maintaining existing customer loyalty.
Instead of creating something completely different from scratch and building up recognition in an already crowded marketplace, why not leverage your current success to branch out into related markets?
That's what brand extensions are all about—capitalizing on positive associations with your original product or service, so you don't have to start back at square one!
Using the power of its existing brand, companies often introduce new products or services that are related to what they already offer. This helps them tap into unfamiliar markets without having to start from zero and grow a whole new name—plus it allows customers to feel at home with their favorite brands!
Find out whether you should launch your brand extension
Learn about whether your awesome new product is as awesome as you think it will be—run consumer research with Attest to learn directly from consumers whether you'll see ROI
Learn about new product development
Different types of brand extensions
There are several types of extensions that a brand can use to expand its product line or reach new markets. Here are the most used ones.
Line extensions or product extensions
This type of brand stretching involves introducing new products that are similar to the company's existing products but offer some additional features or benefits.
When going through the steps of product development, you'll often find more possibilities than one. Don't throw those ideas out just yet you could use them later on.
Line or product extensions are the perfect way to keep your existing customers interested, while also giving them something new.
There's no need to reinvent the wheel—just take what you offer and add some extra oomph!
Picture it: if shampoo is their regular go-to product, why not surprise them with a special formula designed for specific needs such as dry or damaged hair? It'll give loyal fans of your brand an exciting update that they can really appreciate.
Category extensions
This type of brand extension involves introducing new products that are in a different category than the company's existing products but are still related.
Expand your brand's horizon and try something new! For example, if you're already serving up coffee why not add a flavor punch with delightful coffee-flavored ice cream.
Staying within the food industry, one you know well, means you could expand you lineup of offerings by adding something fresh and exciting, but staying true to what you and your customers already know and expect.
Derivative extensions
This type of brand extension involves creating new products or services that are related to the company's existing products or services but are not necessarily sold under the same brand name.
Take a company that sells cars. They can maximize their brand's reach with a clever extension by creating related products or services that give customers more options for showing off their favorite brands—think car mats, chargers and beyond under another name. It might not have the same label, but it'll still show you mean business when it comes to branding savvy.
Co-branding
Why not work together? Sometimes, two brands are better than one. That's how co-branding can also be seen as a brand extension tactic. This type of brand extension means partnering up with another brand to create a new product or service that is sold under both brand names.
Nike and Apple did it for their running apps. Spotify and Starbucks let you carry that coffee shop vibe wherever you go.
You can benefit from each other's good name and reach, while creating something cool together.
Licensing
This type of brand extension involves allowing another company to use your brand's name, logo, or other intellectual property in exchange for a fee. For example, a clothing brand might license its name and logo to a company that produces footwear. This is something Nike and New York City did, allowing Nike to use some of the city's famous logos, like that of the NYPD in its designs.
Corporate branding
When it comes to corporate branding, branching out can be the name of the game. Think beyond your existing product and create a new brand extension that gives you access to whole other markets!
For instance, if clothing is what you sell, why not try sprucing up homes with an exciting spinoff company? That's how ZARA Home and H&M Home were born, and with great success.
Why is a brand extension strategy important?
Now more than ever, businesses need to think outside the box when it comes to developing their brand. Strategic brand extensions can give companies a winning edge in today's competitive landscape! It is however crucial that you test your new concepts before putting them out there, to make sure they land in the right way and don't turn consumers away.
By extending into new markets and targeting different segments of customers with existing positive associations around its current product or service offerings, brands will be able to maximize reach.
Expanding your horizons also means diversifying your revenue streams. Your band becomes less dependent on single products or services, which in some markets, can be a great idea.
It's also great for building customer loyalty. By offering more products or services, you can give customers an even wider range of choices—improving their experience while helping to buffer income.
13 successful brand extensions
Some brand extensions have been around for so long, we often don't even realize what the original brand was anymore.
When drinking a Guinness, few of us think of the world record of base jumping.
When eating at a Michelin-star restaurant, you often forget to think about your car tires.
This is just to show how huge a success some brand extensions can be. Let's look at some successful brand extensions and what brand extension strategy these brands used.
1. Apple
Type of brand extension: product extension and category extension
Apple's first product was the Apple I computer, which was designed and hand-built by Steve Wozniak and Steve Jobs in 1976. The Apple I was a single-board computer that contained all of the components necessary to create a functioning computer, including a CPU, memory and display. It was sold as a kit and required users to supply their own keyboard, display and case.
Fast-forward to today: Apple still sells computers, but also the complementary products such as keyboards, displays and much, much more.
But they didn't stop there: their knack for making computers transformed an entire industry. They introduced the iPod, the iPhone, Apple Watches and the HomePod. And looking at how many people are completely outfitted with Apple products, we can say undoubtedly this is one of the most successful brand extensions ever. Who knows what their next product will be?
2. Nike
Type of brand extension: product extension, category extension and corporate branding
Nike is primarily known for its athletic clothing and footwear, but the company has also introduced a range of related products such as sports equipment and accessories. They have even created popular (and free!) apps like Nike Training Club and Nike Running Club.
Nike really tries to build a community with its name and brand, and does so successfully. Apart from products and apps, they are also known for organizing big sports events. It all stays related to sport and being active. If you're thinking of a brand extension like Nike, just do it.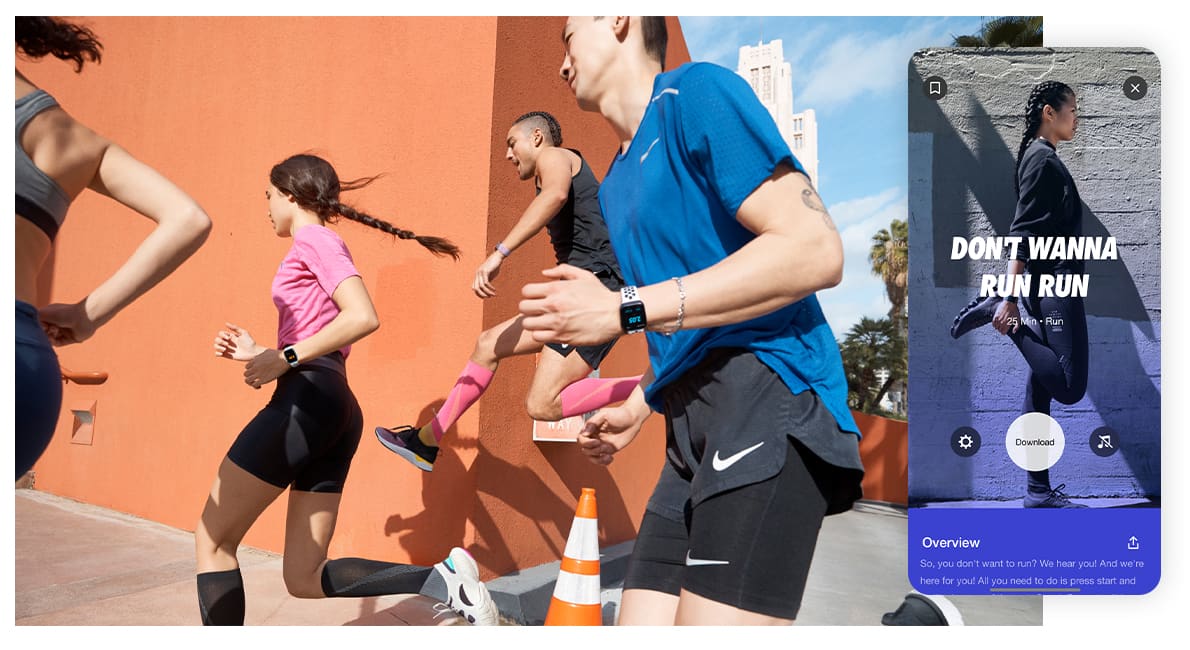 3. Amazon
Type of brand extension: corporate branding
The company started as an online bookstore and has since grown to become one of the largest e-commerce and cloud computing companies in the world.
The idea for Amazon was first conceived by Jeff Bezos in 1993, when he was working at a Wall Street investment firm. At the time, the internet was burgeoning, and Bezos saw the potential for selling books online. He left his job and started Amazon in 1994, initially offering only a few thousand books for sale.
Over the years, Amazon has grown significantly and has diversified its product offerings to include a wide range of items such as electronics, home goods, and groceries. The company has also introduced a range of related products and services such as the Amazon Prime streaming service, the Amazon Echo smart speaker, and the Amazon Web Services cloud computing platform.
4. Michelin
Type of brand extension: corporate branding
A lot of people never realized that Michelin restaurants and guides are, in fact, related to the tire company. And we can't blame them: it doesn't really make sense at first sight, not as a marketing strategy, and not as a product extension.
Let's break this down: Michelin is a French company that was once primarily known for its high-quality tires. In the early 1900s, the company started publishing a series of guidebooks that were designed to help travelers find quality accommodation, dining, and other services along their route. These guidebooks became very popular, and the company started to expand its business beyond tires by rating restaurants and other tourist attractions.
Today, Michelin is known for its prestigious guidebooks, which are published in many countries around the world. The guides are known for their high standards and are considered to be a reliable source of information for travelers and foodies. The company has also introduced a range of related products such as maps and travel guides.
Overall, Michelin's expansion from tires to restaurants was driven by the success of its guidebooks and the demand for reliable information about quality accommodation and dining options. The company's expertise in evaluating and rating products and services has helped it to build a strong brand and establish itself as a trusted source of information in the travel and dining industries.
So, in short: good tires help you get to good restaurants. Just try and remember that.
5. Guinness
Type of brand extension: corporate branding
Until 1955, Guinness Breweries was a British company that was only known for its stout beer. That is until their director went on a hunting trip in Ireland. Yes, really.
Sir Hugh Beaver, the managing director of Guinness Breweries realized that there was no reliable source of information available to settle arguments about which bird was the fastest in Europe. He decided to create a book that would contain records of all kinds of interesting and unusual feats.
The first edition of the Guinness World Records book was published in 1955 and was an instant success. It quickly became a best-seller and has since been published in over 100 countries in more than 20 languages. The book has become a cultural phenomenon and is known for its quirky and fascinating records, which cover a wide range of topics including sports, entertainment, science, and the arts.
Today, Guinness World Records is a global brand that is owned by Guinness World Records Limited, a company that is separate from Guinness Breweries. The company continues to publish the popular Guinness World Records book and has also introduced a range of related products such as the Guinness World Records Gamer's Edition and the Guinness World Records app.
6. Virgin Airlines
Type of brand extension: corporate branding
Alright, buckle up for this one, because the brand extension journey of Virgin is a wild ride. What started as a record store, is now a company going to space—and taking you with them.
The Virgin brand was founded by Sir Richard Branson in 1970, when he started a record store called Virgin Records in London. Virgin Records was a successful business, and Branson used the profits from the store to start other businesses, including a record label and a mail-order record company. Innocent enough, right?
But Branson, being quite the personality, wanted more. In the 1980s, Branson started to expand the Virgin brand into other industries, including air travel and financial services. He founded Virgin Atlantic in 1984 and Virgin Money in 1995. These businesses were successful, and the Virgin brand became known for its innovative approach to business and its commitment to customer satisfaction.
And innovative, they are. They are even developing Virgin Galactic, a subsidiary of Virgin Group that was founded in 2004 with the goal of developing and operating commercial space flights. The company is working on developing a spaceplane called the SpaceShip Two, which is designed to carry paying customers on suborbital space flights.
Yes, there was a huge risk of brand dilution here. And not all of Branson's ideas were a hit. But today, the Virgin brand encompasses a wide range of businesses in industries such as travel, health and wellness, entertainment and technology. The brand is known for its bold and innovative approach to business and its commitment to sustainability and social responsibility.
7. Starbucks
Type of brand extension: line extension
Starbucks is an American multinational coffee company that was founded in Seattle, Washington in 1971. The company was started by three friends, Jerry Baldwin, Zev Siegl, and Gordon Bowker, who were passionate about coffee and wanted to share their love of high-quality beans with others.
And we're very happy they did. Visiting a strange city? Starbucks feels familiar. Need to work away from home? There's always a spot at Starbucks. But that's now what the brand is about necessarily. It's coffee.
The original Starbucks was a small coffee shop that sold coffee beans and coffee-making equipment. The company quickly gained popularity due to its commitment to sourcing high-quality beans and roasting them to perfection. In the 1980s, Starbucks started to expand its business by opening more coffee shops and introducing a range of related products such as coffee makers and coffee beans. Nowadays, you don't have to go for your coffee to Starbucks, you can basically make Starbucks at home. You can buy everything you need at the store, and can even find Starbucks products in supermarkets.
8. Dyson
Type of brand extension: category extension
Whoever pitched at the brand extension meetings at Dyson was definitely not full of hot air. Going from vacuum cleaners to one of the most popular hair dryers ever sounds strange, but they did it.
You probably know Dyson is a British technology company that is great at innovative and high-performance vacuum cleaners. Or you might know them for their air purifiers, hair dryers, hand dryers and fans.
Dyson has now also introduced a line of high-end lighting products that use advanced technology to produce bright and efficient light.
Overall, Dyson's brand extensions are designed to leverage the company's expertise in technology and innovation to introduce new products that solve specific problems or meet specific needs.

9. Dove
Type of brand extension: line extension
This one seems super straightforward, but it was a bigger success than anyone at Dove probably dreamed of.
Whatever your gender, you'll need personal care products. But up until a few decades ago, Dove only created products that were intended for women. They did this successfully, but at some point someone must have wanted more.
A few different smells, darker colors and adapted products later a whole new line was born: the Dove Men+Care line.
Dove stuck to its body-positive values throughout the whole brand extension, which is likely part of their success.
10. Food Network and Kohl's
Type of brand extension: co branding
The Food Network knew that their viewers weren't just content with staring at their screens, drooling over the dishes on TV—they actually wanted to get in the kitchen and whip up some magic themselves. And what better way to do that than with some top-notch cookware bearing the Food Network's seal of approval?
The Food Network decided to take a chance on the cookware game, teaming up with Kohl's to whip up a line of pots, pans and all the other necessary tools for the culinarily-inclined. And boy, did it pay off—this risky brand extension strategy turned out to be a recipe for success.
11. Google
Type of brand extension: corporate branding
Google is a huge established brand. It's become a verb. A way of life. And so much more than a search engine. Their brand extension strategy is based on them being the absolute best at technology, and we're benefiting from that in our daily lives.
Think Google Maps, or products like Google Docs, both used by millions of people on a daily basis. These are brand extension examples that show you that thinking out of your product category can be a great idea.
It even made its way out of our computers and into our homes, with Google Assistant. And lest we don't forget the Google Phones, that are steadily growing in popularity in a market where a lot of smartphone brands have vanished over the years.
12. Red Bull
Type of brand extension: line extension and corporate branding
Red Bull started as energy drinks, but now has the brand image of being the companion for everyone with an outdoorsy lifestyle, or people who are into extreme, sometimes very extreme, sport. They dared to jump out of their product category, making them one of the most creative brand extension examples in this list.
Red Bull didn't just introduce product extensions in the shape of different flavored drinks or drinks with different characteristics, they have are now also in the apparel industry, completely made for people who want to use all that drinkable energy
From hats to hockey pucks and from shirts to snowboard goggles and Formula 1 teams, Red Bull has it all. And we're sure this brand extension isn't done yet, either.
13. Fender
Type of brand extension: line extension
Fender is an established brand in the music industry with a solid brand image. Who hasn't seen a Fender guitar and desperately wanted to try and play it, just to look cool?
Unfortunately, we're not all born with a talent for music. But Fender has adapted to that over the years, meaning we can still use their phenomenal products. Not just to make music, but also to listen to it.
One of the newest additions to their brand is in-ear headphones, which come with the same striking Fender logo, and promise high-quality sounds. Not a shocking brand extension, but certainly one that sounds good to us.
Find out what brand extensions your audience want to see
Some brand extensions are as plain as the nose on your face, like the Gillette one. Others can only be discovered and made successful by talking to your target audience and finding out what they're missing in the market.
The best way to talk to relevant consumers in your market, is with fast and reliable consumer insights from Attest.
We've got everything set up for you to run meaningful surveys and get actionable data and feedback from consumers that can help you create your next brand extension. We'll help you get started with a guide to concept testing and survey templates—and our in-house team of research experts is here to help you through your brand extension project.
Excited to find out what your audience wants? Get started today.
Get insight about your new products
Learn what people think about your new upcoming products with fast, reliable consumer insights from Attest (with designated support from our in-house research experts!)
Ensure product success!