10 Toluna alternatives to consider in 2023
Our top picks for Toluna alternatives (TL;DR list)
SurveyMonkey
Zoho Survey
Google Surveys
Typeform
Pollfish
Latana
Remesh
Qualaroo
Survicate
Why look for a Toluna Start alternative?
Toluna Start is a customer research platform that provides both quantitative and qualitative data. Using either self-service solutions or custom research programs, you can explore everything from general trends to specific target markets.
Their automated insights solutions cover everything from survey design to integrated survey respondents and reporting dashboards, including insights and recommendations. Their solutions are built in-house using Harris Interactive methodologies.
Toluna Start is a good survey tool, but it might not be the best for every situation. Sometimes you need to look for other survey software that can do specific things that others can't. Need a mobile survey, specific data analysis tools or help with survey management? It's all possible, and luckily, there are plenty of choices out there!
We dove into the G2 reviews for Toluna to uncover who it isn't working for and why. Based on those comments, we've compiled a list of ten other great online survey software as Toluna alternatives that might meet your needs better.
Users say Toluna has a steep learning curve
A lot of new comers come into our office and it requires a lot of training all the time. I felt like this wasn't as user friendly as some of the other softwares available.

A Toluna user
Some market research tools have a steep learning curve, and some users mention that this goes for Toluna as well. If your team is inexperienced when it comes to using these kinds of survey tools, you might want to find a more user-friendly survey software.
If you don't want to lose time on training or getting to know the ins and outs of a survey tool, read on for our recommendations.
It takes a Toluna advanced subscription to get access to special features
Limited number of email invites unless upgrading to premium version.

A Toluna user
The free version does not have that many features and so if you want to use this product to its best ability you would have to buy the premium version. Other than that I have no problem because it is easy to use and has good tools for designing polls and surveys.

A Toluna user
Toluna Start lets you choose between different subscription models: a standard subscription, or an advanced subscription.
Sometimes you just want a straightforward, simple pricing plan. Some users on G2 mention that Toluna could be clearer on what is included in free plans, and which features need upgrades.
If you don't want to have to think about raising your budget occasionally, or just want an all-in solution, check out survey tools that have simple pricing plans.
Toluna Start usability could be easier
Could be easier to navigate, issues with data collection.

A Toluna user
We weren't able to easily customize the look and feel to match some marketing campaigns we planned. The overall features, in terms of design and questions, is more limited than some other common forms solutions out there.

A Toluna user
The interface gets very crowded when you are looking at multiple cross-tabs. To view all of the information when you are looking at the "Results" of your survey, you are forced to scroll vertically and horizontally in some very tight, clustered windows. Survey-building features are not necessarily intuitive. New users usually struggle, and in the process of building surveys, might not even realize all their progress has been lost.

A Toluna user
Last but not least: the interface of the platform gets mentioned quite a few times on the G2 platform. Users find it crowded or confusing.
This might connect to the steep learning curve. If you want to work with a tool that is more intuitive and simpler to navigate, Toluna mght not be for you—but we've got plenty of other options for you!
Best Toluna alternatives for online surveys and market research
1. Attest
Attest is a reliable consumer research platform that gives you direct and complete insights into your customers, brand, market and more. Attest is the perfect online survey software for any brand looking to get closer to their target audience. Covering everything from market analysis to product development and more, Attest allows you to make informed decisions based on robust customer insights.
With our intuitive survey software, you can create online surveys from scratch or base them on our templates—written by the experts in our Customer Research Team. And your designated Customer Research Manager will be with you every step of the way, to help you make the most of your research.
Attest's consumer insights are reliable! We run a rigorous triple-check process to make sure your data is high quality, and we source our 125 millionm consumers from hundreds of panels to make sure your data is truly representative and accurate.
And yes, you can be super specific! We give you access to 125 millionm consumers in 58 countries, so your target audience is in there somewhere.
Once your up and running, your survey response data will start populating your dashboard, and you can start digging into our pre-set demographic filters to find the gold!
Key features:
With our global reach, you can survey your audience picking from 125 millionm people in 58 countries.
Our combination of AI and human data checks give you reliable insights.
Designated research expert who can help guide and manage your project from start to finish.
Pros:
With the help of research experts, everyone can gather valuable insights
High data quality thanks to our mixed-method methodology
Cons:
No social listening tools available
Pricing: Our plans start at $0.50 per response for up to 50,000 responses.
See how Attest compares
Wondering how Attest is different from Toluna? Well there's one way to find out—see Attest in action!
Book a demo with Attest
2. SurveyMonkey
If you're looking for a fast and easy way to launch a survey and get to know your audience better, SurveyMoney might be for you.
SurveyMonkey is a popular survey platform that can help businesses collect consumer insights. With access to over 144 million people in 130 countries, you're sure to get to know your target group pretty well.
You can target your audience through multiple channels, such as asking them to take part in a survey after they've visited your website, or by sending out invitations via email.
Besides that, SurveyMonkey also offers some cool features like logic piping and custom variables to manage survey responses and create better experiences for your respondents.
Key features:
Audience of 144M+ people in over 130 countries
Multi-channel survey app: collect responses via weblink, email, mobile chat, social media, and more.
Automatically analyze your results in their dashboard
Pros
Easy-to-use dashboard with analytics presented in an understandable way
Create customized surveys in the simple survey builder
Cons
Limited customization options
Need to pay for premium subscription to access advanced features
Pricing: Their Team Advantage plan costs $30 a month, per user, billed annually. Check out their other plans.
3. Zoho Survey
Zoho Survey is a straight-forward and simple survey tool that lets you create surveys to learn more about your customers. You can easily collect customer feedback, measure customer loyalty, effortlessly manage online reputation and more.
Key features
Integration with Tableau, you can now create charts and visualizations
Use question branching, logic features and follow-up questions
Multi-lingual support
Pros
Add your own branding
Easy to analyze survey results
Cons
Not suitable for advanced surveys or advanced data collection projects
Lacks complex and robust analytical tools
Pricing: Zoho has a free plan with unlimited surveys, but limited options. Their paid plans start at £25 a month.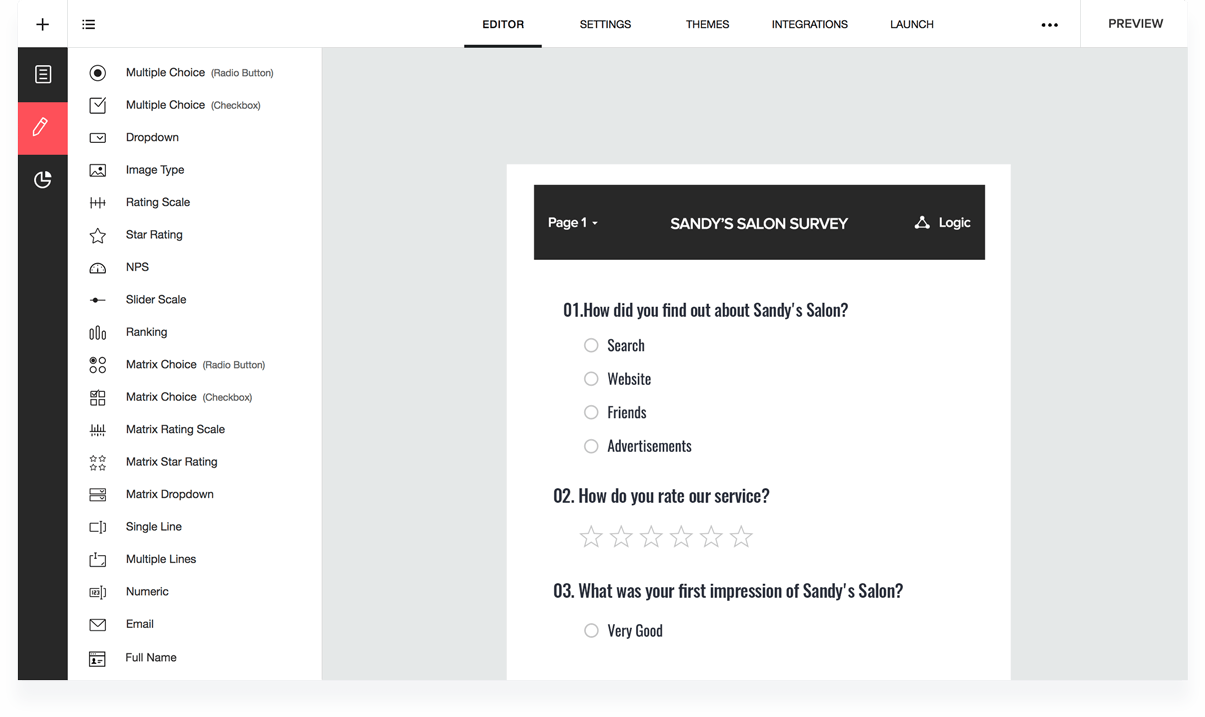 What can you even collect with all these tools? Check out these cool customer insight examples.
4. Google Surveys
Surveys 360 by Google is a three-step process that immediately benefits both you and the person taking your survey. As they help you gain valuable insights, they in turn get access to premium content. This tool is ideal if you're looking for accurate and recent data, from a specific group of people that looks at specific content.
Key features:
By completing a survey, respondents are given access to premium content as an incentive.
With advanced geographic targeting, you can target your respondents by zip code. This way, you can make sure that only people in the areas you're interested in are taking your survey.
User-list targeting allows businesses to connect with specific consumers on a deeper level.
Pros:
Simple to use for every level of research experience
This tool integrates easily with other tools that you may already be using, like Google Analytics, Search Ads 360, and Google Ads. This will save you time and hassle in the long run!
Cons:
Limited survey design options
The service shut on November 1 2022
Pricing: ​​You pay per completed response, and the price is based on the audience you want to reach.
5. Typeform
Typeform is a survey tool that seeks to engage its respondents in conversation, rather than simply bombarding them with questions. This philosophy is reflected in the design of their surveys: you are only presented with one question at a time, and they prefer if you use conversational language. Typeform surveys are easy to recognize and easy to fill in.
Typeform can be used for any type of market research: from customer satisfaction to product design, and everything in between. They have some templates available with inspiration. It's the tool that's perfect for any truly customer centric organization.
Typeform features
A lot of customization options for professional looking surveys.
Engaging and conversational survey design for a rich customer experience.
Easy-to-use builder and dashboard
Pros
Surveys that look different and might get better answers
Doesn't require much training to understand
Cons
Limited freemium options
It can be pricy for small companies and budgets
Pricing: Typeform plans start at $35 per month when billed annually.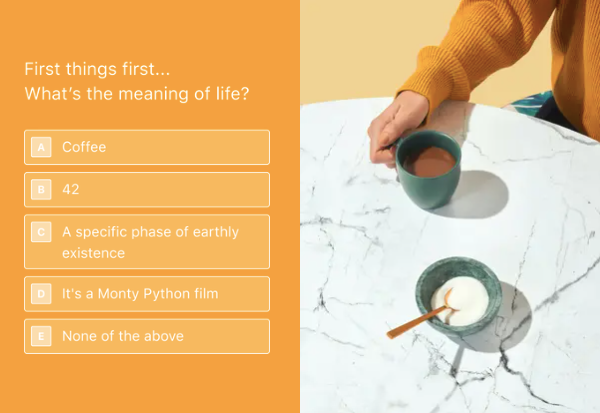 6. Pollfish
Pollfish lets you collect answers quickly. You can use it ask anything, from gauging customer sentiment about your latest campaign to product preferences.
Pollfish makes it easy to collect insights from 250 million+ consumers around the world, all in real-time. Speed is Pollfish's main value proposition: respondents discover the surveys in third-party apps, for example while playing a game, so they answer rapidly, giving you in-the-moment results.
With their survey tool, you can conduct market research easily and effortlessly gather data about your target market.
A/B testing allows you to test different versions of your questionnaire so that you can determine which one works best. Additionally, their advanced questionnaire logic personalizes each survey for the respondent.
Learn more about how Pollfish differs from Attest.
Key features:
Mobile-first, presenting surveys in third-party apps
Easy to set up
Uses 'organic sampling'
Pros
It's fast!
It's super easy to use
Cons
You're limited to people using certain ads
People might not answer truthfully if their scrolling is interrupted—Pollfish's technique is to survey people while using third-party apps and sites
Pricing: The cheapest Pollfish pricing starts at $95 a month, which gives you 100 respondents, and up to five questions per survey.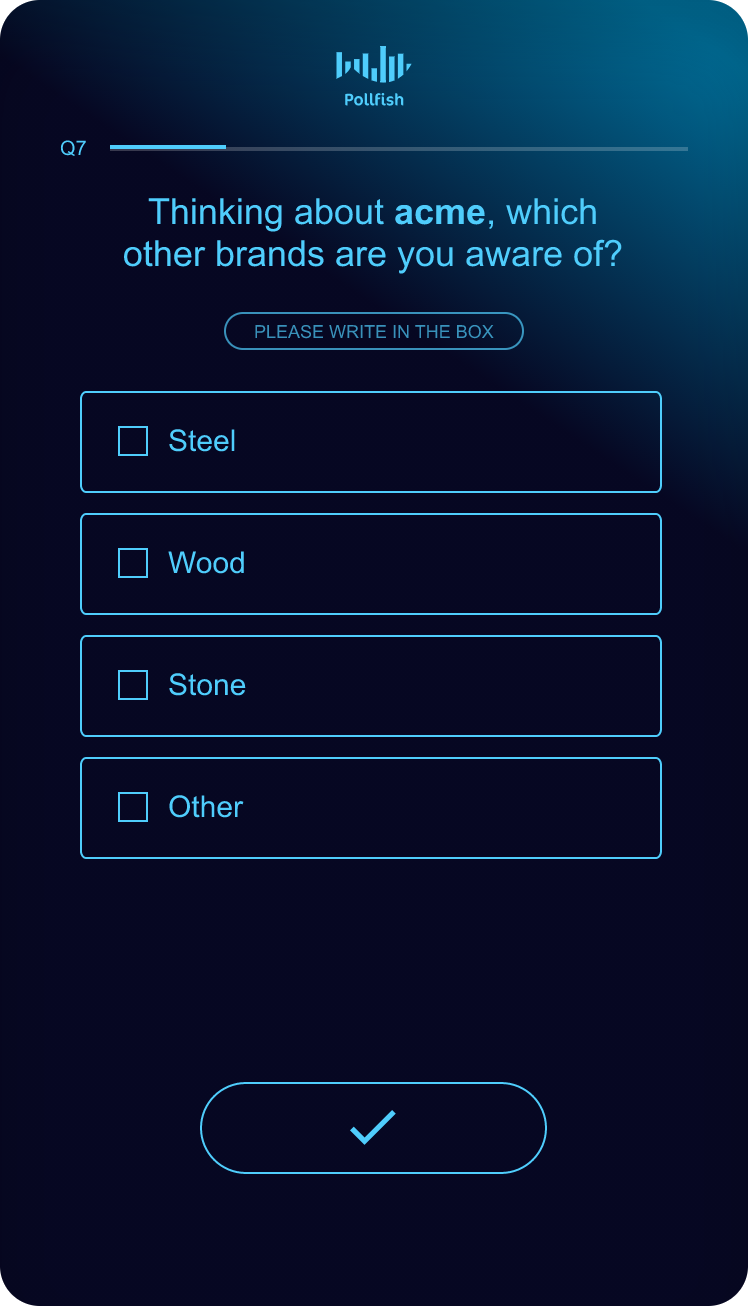 7. Latana
Another phone-based survey tool!
Latana is a customer insight tracking tool that makes it easy for brands to understand their customers and consumers to share their feedback.
Not everyone likes answering a lot of questions on their phone, which is why Latana is perfect for quick surveys. By asking your audience one or two specific questions, you'll get the best results.
Latana allows you to design mobile surveys that can be taken by broader or more specific audiences, giving you the opportunity to connect with 4 billion mobile users globally.
Key features:
Mobile-optimized surveys
Niche targeting options
Great ease of use
Pros:
Good for quick surveys
Easy to set up
Cons:
Not suitable for in-depth surveys
Respondents might rush their answers
Pricing: Latana does not mention pricing or plans on their website, so reach out to their sales team for more information.
8. Remesh
If you want your product innovation to be based on what consumers actually want and think, using Remesh is a great option for fueling the development stage.
Remesh provides users with the ability to gain qualitative insights from a large group of people in real-time. This allows for more informed decision-making based on feedback received directly from those who matter most.
Key features:
Have live conversations with up to a 1,000 people at once
No need to manually analyze their answers: AI does the heavy lifting
Remesh enables you to analyze open-ended responses in real-time
Pros:
Perfect for scaling your survey
A lot of automation options
Cons:
Can be trickier to use
Watch out for bots or professional survey takers
Pricing: Get in touch with their team for information on pricing
9. Qualaroo
With Qualaroo, you can gather information from visitors to your website or app by presenting them with a survey, which is perfect if you're looking to gain customer experience insights. This means that you won't be asking many lengthy questions, but you can get very specific information from people who are already familiar with your brand. For example, you could ask about their purpose for visiting the website or how satisfied they are with the app.
Key features:
Display collected data with sentiment analysis
Set up automatic responses for certain sentiments that are being picked up
Data visualization for quicker analysis
Pros:
Perfect for surveying people who visit your website or app
Great automation options
Cons:
Not as suitable for lengthy, in-depth surveys
Limited target audience: only web and app visitors
Pricing: Depending on your number of page views, plans start at $80 a month when billed annually.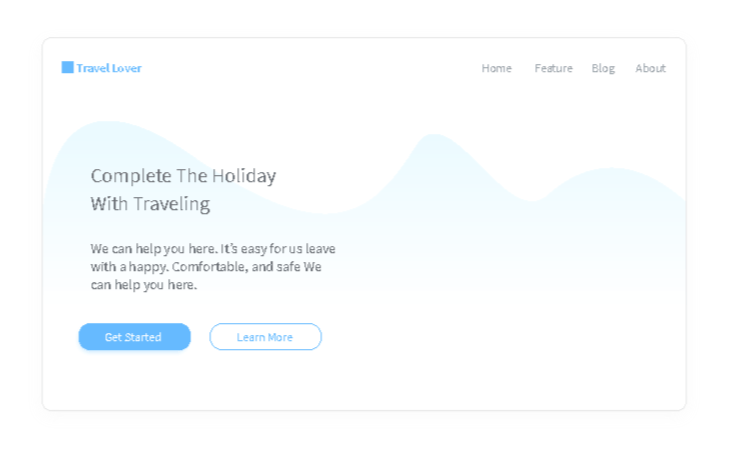 10. Survicate
If you automate and survey, you get Survicate! This tool is great for running long-term surveys and continuously collecting data from your beloved customers. it's the perfect feedback management platform for those who just want to have surveys running in the background and regularly check-in.
Key features
Set up automated surveys for continuous customer insights
Integrations with tons of popular tools
125+ survey templates and tons of branding options
Pros
Automation! Collect feedback and cut down busywork and let the survey do its thing
Free plan with unlimited surveys and all survey features enabled
Cons
Pricing is quite complicated with a mix of surveys and response limits
Simplicity, but therefore also lack of options
Pricing: there is a free plan for quick surveys. Then plans start at $89 per month.
Choosing the right survey software for your business
Those are all our recommendations for Toluna Start alternatives, but there are plenty more market analysis tools out there!
When it comes to choosing the right survey software for your business, there are a few factors you'll need to consider. First, you'll need to decide what kind of survey you want to create. There are a number of different types, including opinion polls, customer surveys, and feedback surveys. Are you looking for qualitative and quantitative approaches, or do you focus on just one?
Once you've decided on the type of survey you want to create, you'll need to choose the right survey system. Some platforms are better suited for certain types of surveys than others. As we said, a tool like Pollfish is great for quick customer feedback, while Qualaroo is good for a site intercept survey. Think about what you'll be using most when deciding what to invest in—not just in terms of money, but also in time and training.
Make a wishlist with the features you're looking for to use in your final decision. It can be easy to be tempted by a platform that has it "all", but make sure it doesn't overcomplicate what you need. If you're looking to gather customer feedback and don't need much else like data management or tools that help you manage online reviews, keep your focus.
If you're looking for really valuable data that you can confidently base your business decisions on, Attest is the way to go. We have tons of market research surveys options, solid reporting and analytic tools and support survey projects with real professional market researchers, guides and tons of templates to make your survey a success.
See how Attest works
Make sure you find out which survey platform is best for your needs and goals—see how you can reach your target audience with Attest.
Book a demo with Attest